Visite de Universal Studios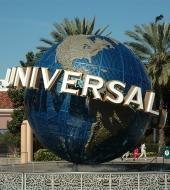 Visite de Universal Studios (toute la journée) avec navette gratuite
Préparez-vous pour une expérience inoubliable à Hollywood, la capitale du divertissement de Los Angeles! Vivez une journée entière pleine de divertissement et d'action en un seul endroit: Universal Studios Hollywood.
Qu'est ce qui est inclus dans le tour?
- Backlot Studio Tour y compris King Kong 360 3D et The Fast and Furious Supercharged;
- The Wizarding World of Harry Potter™
- Ouvert maintenant! Pénétrez dans le monde post-apocalyptique de "The Walking Dead" de AMC avec la toute nouvelle attraction ouverte toute l'année.
- Rejoignez les Minions sur le Despicable Me Minion Maythem
- Transformers™: L'attraction 3-D;
- L'attraction The Simpsons™;
- Shrek 4-D™;
- Revenge of the Mummy℠ – L'attraction;
- Jurassic Park® - L'attraction
Trois spectacles surprenants:
- Waterworld®;
- Universal's Animal Actors;
- Le Special Effects Show
Le plus grand studio de cinéma au monde et le parc à thème Universal Studios Hollywood vous offriront des attractions uniques et innovantes telles que The Simpsons Ride, qui dispose de l'humour classique de la série et plusieurs de ses personnages mémorables - tous exprimé par les acteurs originaux. Vous serez comblés de sensations incroyables pleines de surprises palpitantes sur les manèges comme Revenge of the Mummy, The Ride et Jurassic Park et The Ride. Vivez une aventure extraordinaire dans une autre dimension avec Shrek 4-D et ses effets si réels.
Vous serez certain de vivre un moment unique et incroyable avec les manèges palpitants, les parcs à thèmes, les spectacles, un véritable studio de cinéma de travail, les meilleures boutiques de Los Angeles, les restaurants, les cinémas à CityWalk, et l'Universal Studios Hollywood.
Plus d'informations:
Le prix comprend un billet d'entrée régulier à Universal Studios Hollywood et un transport aller-retour à partir d'un hôtel de la région de Hollywood. Nous partirons à 9h30 de la gare Starline et il nous faudra environ 15 minutes pour arriver à Universal Studios. Une fois là, vous serez libre d'explorer par vous-même. Le ramassage est à 17h30 en semaine et à 18h00 le week-end pour revenir à l'hôtel. Pendant les vacances d'été et d'hiver, nous vous chercherons à 18h00.
Point de départ:
Parvis du théâtre chinois de Grauman, 6925 Hollywood Blvd. 90028
Heure de départ:
09h30 ou 12h30
Durée: 5 - 8 heures
Remarque: Les enfants doivent être âgés de minimum 3 ans et doivent mesurer minimum 1m20.
The ticket will be sent within 24 hours in a seperate e-mail.

Les tickets seront envoyés par e-mail